Rich Media----Solutions optimized for rich media
Delivering single and multi-user access, editing, sharing, & distribution of 4K footage for Post Production and Broadcasting, House of Worship, Sports and Education environments.
Post Production & Broadcast – tuned in to your challenges
Higher resolution (4K, 5K, 6K, 8K) ingest and capture means storage capacity requirements will continue to grow and higher performance technologies are needed. These larger file sizes mean rendering, compositing, coloring, and editing require significant bandwidth, and can increase workload productivity time spans – making it hard to meet deadlines.
As rich media continues to shift towards higher resolution images and video, customers must deploy storage systems that are equipped to handle the delivery of video streaming and content distribution of media at higher bandwidth. And let's not forget that this growing amount of content will need to be backed up and archived in different tiers depending on access requirements for the most efficient data lifeycle management.
House of Worship – broadening sermon and worship reach
Houses of Worship seek to find ways to broaden sermons to wider audiences, but may have constraints in production staff, or storage bandwidth issues for housing or streaming such media. Further, weekly sermons, training, worship, conferences, or concerts all require content creation and delivery technologies.
Promise also addresses the different needs of different size churches, from a small, community-based house of worship, to nationally recognized "Megachurches." Add in the growing popularity of web streaming as an exciting, cost-effective way to reach more parishioners, and you have a market as unique and varied, as there are religions! For all your rich media needs, the Pegasus32 and VTrak E/D5000 series offer flexible solutions for single users, multi-users, and multi-viewers.
Sports – moving at the speed of the games
Sports venues at different locations require a means to capture, catalogue, edit and distribute footage for content management. Moving game to game requires mobile truck staffing and portable cameras. At the same time, higher resolution sports require more storage, but most portable storage solutions don't have the speed and capacities necessary. Pegasus32 offers solutions leveraging SSD or HDD up to 112TB storage configurations. These portable configurations can be easily transported in mobile trucks. More importantly, these products feature the speed and performance you need.
As sports footage is increasingly shot in HD and 4/8K for animations, effects, and slow motion replay studio processing bandwidth will be severely impacted, in terms of time and delivery. VTrak E/D5000 series is optimized for high bandwidth video editing collaboration and can easily double the bandwidth of an editing studio.
Education – learning about the need for easy, basic storage
Classrooms are increasingly using video for education capture and curriculum. They require small-scale storage that can be managed by classrooms. And of course, as budgets are always an issue, all solutions must be both cost-effective and reliable. The Pegasus32 solutions are portable for individual desktop or classroom use but powerful enough to deliver Thunderbolt 3 speeds. Connect to either Thunderbolt™ 3 enabled host at 40Gbps or USB 3.2 Gen 2 enabled host at 10Gbps! Pegasus 32 can be accessed single or multi-user. For more robust needs, and collaboration over NAS/SAN the VTrak E/D5000 series can be shared in a classroom setting as a digital locker.
Now that more and more classrooms are online, infrastructure is needed to support that curriculum made online for more student access. The VTrak E/D5000 series can scale up to Petabytes to store rich media content with student permission access control. This access can be onsite or remote.
It all starts with fast, high-capacity storage
VTrak E/D5000 series provides shared storage that can ingest and  capture in post production workflows starting at 48TB and scaling up to 4.6 PB's under a single VTrak RAID head. Pegasus32 solutions leveraging SSD or HDD can go up to 112TB's configurations . Each solution can then be daisy-chained up to 6 times and connect to either Thunderbolt™ 3 enabled host at 40Gbps or USB 3.2 Gen 2 enabled host at 10Gbps!
Work more efficiently, with more people
VTrak E/D5000 series Unified NAS/SAN allows for multi-user simultaneous editing, thereby improving workloads from months to weeks, or from weeks to days. SANLink3 N1 and SANLink3 F2 are macOS Catalina ready! SANLink adapters directly connect Pegasus32 workloads to VTrak SAN/NAS for multi-user collaboration. Pegasus32 Thunderbolt™ 3 at 40Gbps or USB 3.2 Gen 2 desktop RAID storage can offload 4~8K compressed footage from cameras at over 2830MB/s performance. So what used to take hours, now takes just minutes.
High-bandwidth for content creation and delivery
Promise solutions offer the speed and performance that enables multiple camera capture to be offloaded to a Pegasus32 and edited simultaneously from VTrak E/D5000. Streaming content can be distributed by the VTrak once rich media is edited and transcoded. VTrak shared storage appliances and VTrak E/D5000 series subsystems can also be tiered for primary and secondary storage, or for backup and archiving needs and digital asset management.
Portable and convenient solutions
Today's high-end camera are becoming increasingly compact for mobility. Thus, portability is now a key consideration when it comes to on-set or remote footage capture. Pegasus32 offers solutions leveraging SSD or HDD up to 112TB's configurations. These portable configurations can be easily transported with out taking up space and can be easily hand carried. SANLink adapters directly connect Pegasus32 workloads to VTrak SAN/NAS for multi-user collaboration. SANLink3 F2 16G FC creates direct connectivity from Thunderbolt™ 3 enabled host desktops or laptops to VTrak E/D5000 FC storage systems. Similarly SANLink3 N1 10GBaseT provides a macOS hosts or HP Z series workstations direct connectivity not only to 10G storage, but directly to 10G Ethernet.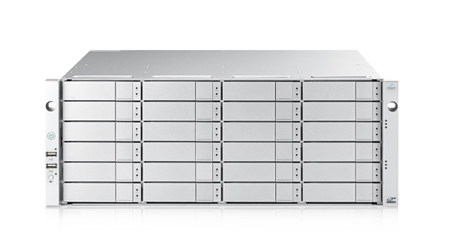 A faster processor, 10Gb Ethernet ports, and more memory is just the beginning. Enhanced cached mirroring design, auto-regeneration of data to mitigate frame drops and optimized disk access all add up to blazing performance for broadcast and editing environments. The VTrak D5000 Series optimizes performance to enable media professionals to increase productivity by allowing efficient processing of compressed video, delivering best-in-class performance and reliability.
Enterprise HA RAID Storage for SAN & DirectAttach Access- now upto 16GFC & 12G SAS! High bandwidth, low latency with advanced RAID protection ideal for rich media and HPC shared storage. Available in 4u24, 2u24 with 3u16 and 2u12 coming soon!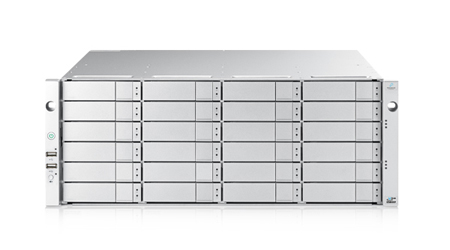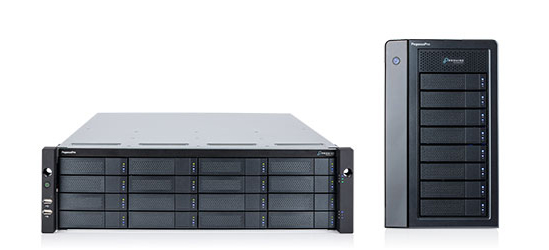 Convert from DAS to NAS and vice-versa with FileBoost™ for the first time, reducing hours of troublesome transferring and sharing time to just one-click.
NEW Thunderbolt™ 3 and USB 3.2 Gen 2 Hardware RAID Storage for Creative Professionals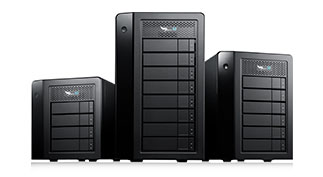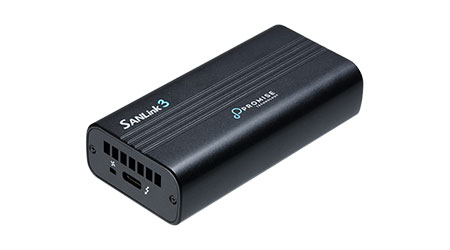 The SANLink3 Series with Thunderbolt™ 3 technology revolutionizes how creative professionals connect Thunderbolt™ 3 device to an existing Ethernet infrastructure.
Custom-Designed for the Mac Pro
The Power of Promise Pegasus Storage, Now Inside The Mac Pro